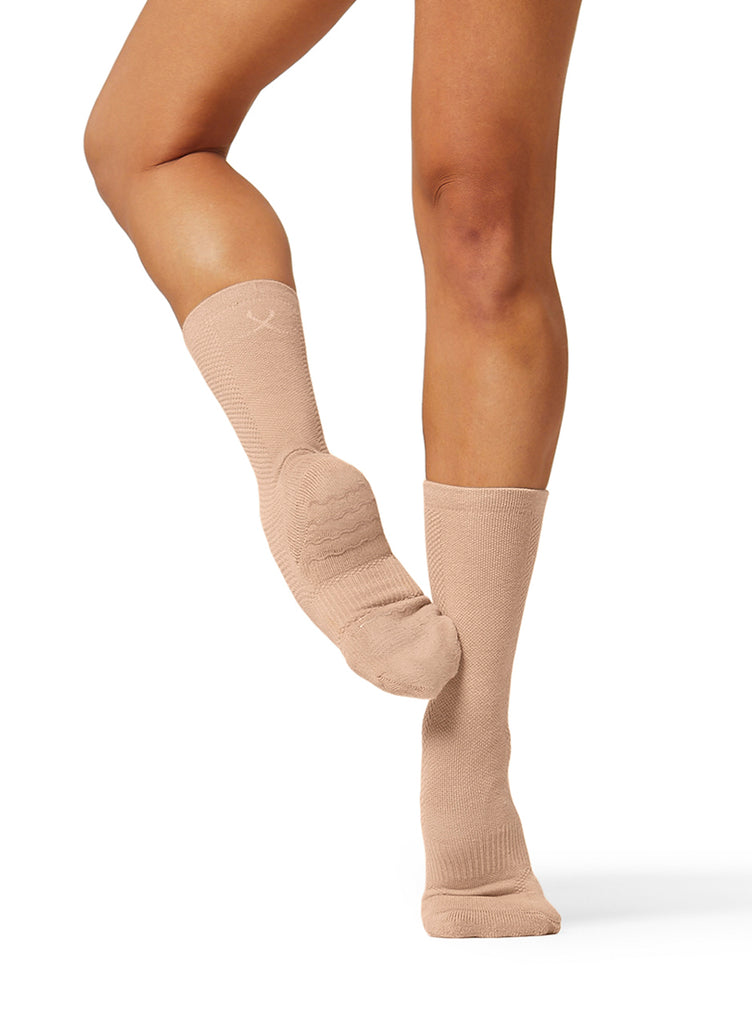 BLOCHSOX gives you stability in your turns, support in your jumps and perfection in your lines. BLOCHSOX is a cutting-edge dance sock designed for dancers to push boundaries with equal comfort and support. With innovative features like a built-in spin-spot, brake lines, grip control lines and enhanced compression arch, the freedom to dance with total control is now possible. Smoother turns, jump support and the ability to hold difficult lines are a few of the benefits dancers can expect to experience.
Features
Brake lines -  two lines in the forefoot area behind the spin-spot and five lines on the heel, positioned to help a dancer stabilize pirouettes and control challenging dance moves, whilst still allowing the ease of gliding in the sock
Spin-spot - designed to allow dancers to turn and glide smoothly, the spin-spot also features extra padding to protect dancer's bones
Grip control lines on the inside of the sock in the spin spot area, these specially engineered sticky fibers help hold the sock in place on dancer's foot
Double welt compression cuff not only will the sock stay up on a dancers leg, it is designed with the right amount of stretch and compression for a natural fit
Enhanced compression arch supportive and designed to hug the dancer's foot, the compression arch shows-off a dancers foot line
Padded heel extra padding has been added to the heel to protect dancer's bones
Size Recommendations: XS (3-5), S (5.5-7), M (7.5-9.5), L (10+)
Add a small amount of baby powder to the silicon grips of BLOCHSOX if you would like to reduce the stickiness of the grips
Quality & Comfort
Outstanding customer service, as well as superior quality products at an affordable price.
Low Cost Shipping
Offering UPS and USPS low cost shipping everyday. Choose what works for you best.
No Restocking Fees
Easy 14 days returns and exchanges, from date of receipt. No restocking fees....ever.